PrecisionGlide™ System 
Delivers precise control and effortless roll on eight MagnaTrac® self-aligning spinner wheels led by a height-adjustable PowerScope handle with comfortable Contour Grip.

PowerScope Handle
PowerScope airline-grade aluminium extension handle minimizes wobble and has four stops at approximately 91.44 cm, 96.52 cm, 101.6 cm, and 107.95 cm to accommodate users of different heights.

Patented Contour Grip 
Patented Contour Grip handle with rubberized touch points for comfortable, easy maneuvering go wherever.

8 Spinner Wheels
Eight MagnaTrac®self-aligning spinner wheels provide effortless roll.
DESIGN
Pack easily and travel in style with this ultra-durable, handsomely-crafted luggage.

Expansion
Tapered expansion design keeps the center of gravity low to help reduce tipping while providing up to approximately 5.08 cm additional packing capacity.

Packing System
Deluxe tie-down system with compression straps, integrated accessory pockets, removable suiter system and a removable quart size water-resistant toiletry bag.

Crafted in Style
High density nylon fabric with DuraGuard® stain/water-resistant coating, premium leather top & side carry handles and chrome zippers.
Deluxe Features
Stay secure and connected when traveling on the go.
Power up on the go
External USB port with dedicated power bank pocket meets FAA regulations for carry-on and checked baggage. *Power bank not included. (Only featured on Carry-on models).
Safe and Secure
Integrated lock allows TSA authorities to safely unlock and lock suitcase for inspection when needed. Default lock code is 0-0-0 to open. (Only featured on Check-in models).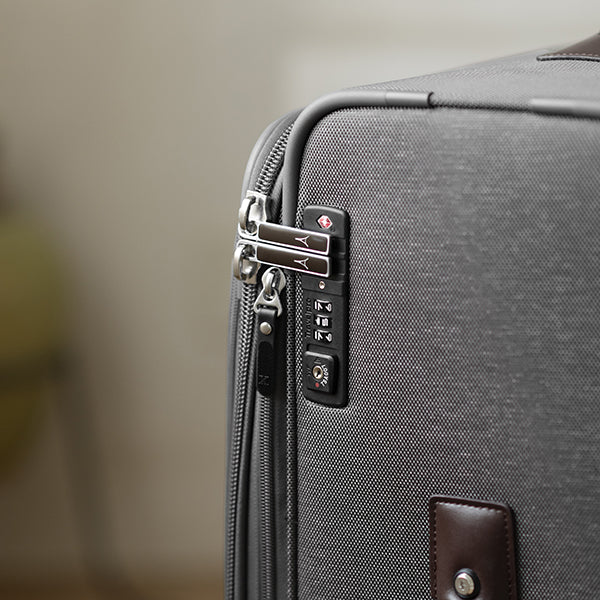 Which Size Is Right For You?